Epoxy Floor Paint Application Services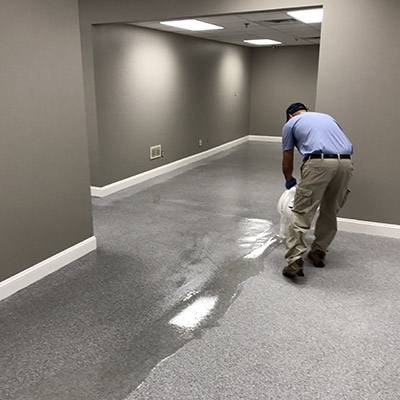 Southern Floor offers expert epoxy floor paint application and installation services using high quality coatings. Epoxy floor paint is a durable two-part coating that's very durable. It can be applied to new or existing concrete floors quickly and easily. Epoxy flooring is perfect for industrial and commercial buildings.
Interested in epoxy floor paint? Get in touch with Southern Floor.
Epoxy Floor Paint Application Process
Southern Floor's epoxy floor installation team is trained and certified by the manufacturers to ensure correct application and product warranty validity. We're committed to giving our clients a superb finish. Epoxy floor paint transforms dirty or old concrete floors into clean and attractive surfaces.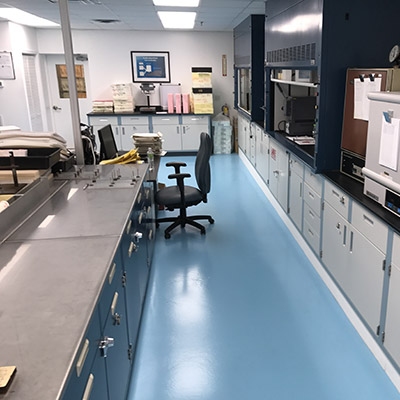 We install epoxy floor paint in facilities of all sizes with our quick application process. Our special rollers ensure smooth and seamless application even on old or cracked floors. We work fast so you can get back to work.
Our installers can combine multiple colors of epoxy floor paint to create a unique design or pattern. We can even incorporate your company logo into flooring. Contrasting colors can also be used to designate forklift traffic zones, work zones, or safety zones.
Benefits of Epoxy Floor Paint
Because it's durable, scratch and chip resistant, and long lasting, epoxy floor paint is a great flooring option. Epoxy floor paint works well in warehouses, manufacturing plants, commercial kitchens, hospitals and more. Our durable epoxy floor paint offers:
Highly reflective surface

Slip resistant flooring

Affordable and quick flooring

Chemically resistant surface

Attractive, high gloss finish

Impact and scratch resistant coating

Easy to clean, seamless and nonporous
Learn More
Interested in epoxy floor paint? Get in touch with us. Or learn more about epoxy floor paint here:
What Are Epoxy Floor Coatings

Benefits of Using and Epoxy Floor Coating

Epoxy Coating Uses

Types of Epoxy Coatings

Self Leveling Epoxy: What it is & What the Benefits Are
More Examples of Our Epoxy System
Diamond grinding to prepare the surface
Industrial Supply Store
Full Flake Epoxy System for professional office
Seamless 100% Solids Epoxy System for testing lab