Concrete Grinding Services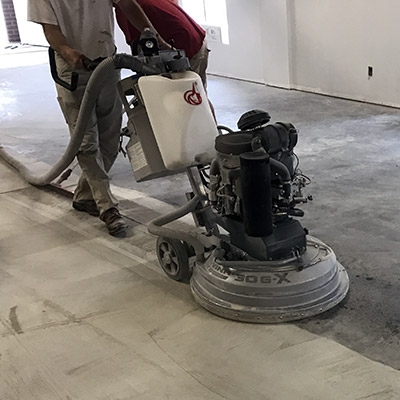 Southern Floor offers concrete grinding services, including diamond grinding and shot blasting. Our diamond grinding equipment can handle any size job. It includes a dust suppression system, key for concrete grinding in medical and pharmaceutical manufacturing environments.
Need professional concrete grinding services? Get in touch with Southern Floor today.
What Concrete Grinding Does
Concrete grinding removes concrete surfaces, or layers of concrete. This is done when prepping for a new flooring install, to improve safety, or create better drainage in uneven floors. Shot blasting is similar to concrete grinding, but uses small steel balls to remove the top layer of concrete and dirt. Additional reasons for using concrete grinding include:
Removal of floor coatings and surfaces: Includes glue, epoxy and rubber flooring floor surfaces, paint, and grout from ceramic or stone tile.
Surface prep: Diamond grinding equipment can create a smooth surface for polished concrete or stained concrete floors.
New flooring prep: Shot blasting and concrete grinding smooth uneven surfaces and remove dirt, oil, and other debris. Southern Floor offers concrete grinding and shot blasting to prep for the install of hardwood floors, tile, carpet, and epoxy floor paint.
Create level-flooring: Flooring can rise up and create uneven and potentially dangerous surfaces. Concrete grinding can reduce and eliminate these problems and also improve water drainage.
Clean flooring: Shot blasting and concrete grinding removes dirt, oil, glue, and other debris from floors. Our dust suppression systems are perfect for working in medical and pharmaceutical labs or manufacturing and packaging plants.
Contact Us
Southern Floor's concrete grinding and shot blasting services are perfect for commercial or industrial concrete floors. Interested? Give us a call today.